We all know how nerve-wracking it can be to come up with the best gifts for mom — it has to be useful, current, personal and dashed with sentimentality. After all, she deserves the best there is and Mother's Day is the perfect time to shower her with an amazing gift that will help express your love and appreciation!
So don't fret; I've already done the thinking in order to help you come up with some unique Mother's Day gift ideas. The best part? The following choices are beyond the usual flower bouquet and card combo; but of course, it doesn't hurt to give these add-ons to your main gift because a personal note is the 'icing on the cake'!
In fact, no matter if you're shopping for your mom, your wife, your sister, your grandmother, your aunt, or your friend, I have come up with a number of thoughtful items that will fit just about anyone's personality and hobby.
Take note: this year's Mother's Day is this Sunday on May 9th so get ready to place these orders soon!
Gifts for Mom
» Travel
FOR THE JETSETTER MOM. Why not book a vacation for your mom? Better yet, book a vacation for the two of you in the future!
There are a lot of amazing websites where you can make this happen such as AirBnB (accommodations), Klook (tours), and SkyScanner (flights).
FOR THE PHOTOGRAPHER MOM. This is one of the best gifts for mom especially if she travels with a lot of gear during her travels.
Besides, this is is well-compartmentalized and cushioned — perfect for protecting her precious camera and lenses!
FOR THE ORGANIZED MOM. Help her say goodbye to awkward organizers with this beautiful jewelry bag that can neatly hold all sorts of things: earrings, rings, bracelets, and necklaces.
FOR THE HIKER MOM. Give this amazing invention as a Mother's Day gift that will totally revolutionize her experience while she's out in nature!
Much like what you see in the photo, this is an amazing gadget that easily filters any liquid with just a sip — from questionable tap water to natural streams.
FOR THE JETSETTER MOM. This is one of the most unique gifts for mom that will help her track all of her memorable adventures worldwide!
When you order, you can personalize the titles and even set customized legend information on the map.
FOR THE INSTAGRAMMER & PHOTO-LOVIN' MOM. Available worldwide, you can now help your mom capture the best memories by hiring a professional travel photographer for her!
• • •
» Accessories, Apparel & Beauty
FOR THE BEAUTY-CONSCIOUS MOM. This is a nifty face mask device that will grant a professional facial treatment that will nourish anyone's skin.
She always comes to you for skincare tips, so now you can give her this which is one of the best gifts for mom that will help maintain her youthful glow!
FOR THE TRENDY MOM. Help change the way she dries her hair — faster but with no extreme heat to help maintain vibrant and healthy hair!
The best part? This is engineered to work for different hair types.
FOR THE BELOVED MOM. Grant her a symbol of your everlasting love and connection with this charming bracelet!
After all, you can easily customize and engrave it with words such as that of you and your siblings' names.
FOR THE SENTIMENTAL MOM — OR GRANDMOM. As an alternative to the previous gift idea for mom, give her this necklace as a present instead!
Likewise, you can engrave words on the pendant and have it in silver, 18k gold or rose gold.
FOR THE FASHIONISTA MOM. Spice up mom's wardrobe with a selection of SHEIN's beautiful clothing and apparel!
No matter the occasion — casual to formal — SHEIN has a number of affordable yet high-quality selections to choose from.
FOR THE RUNNER MOM. Grant her a different kind of comfort during her daily walk or run with these stylish shoes that have a brilliant barefoot design.
They also come in different colors, so go and take your pick for her!
• • •
» Home Decor & Items
FOR THE HARDWORKING MOM. After a long day of work, there's nothing that beats a nice hot bath!
So help spice up your mom's pampering session with this expandable bathtub caddy tray that can hold a lot of stuff: wine, books, and many others.
FOR THE PET-LOVER MOM. Mom's newest favorite turned out to be the family dog?
Then go and spoil her four-legged loved one with this customized slow feeder that comes in different sizes and colors.
FOR THE HARDWORKING MOM. Make ironing a lot easier by gifting her this compact steamer that packs a punch for getting out wrinkles.
It lasts for a long time and has a 240ml capacity.
FOR THE HARDWORKING MOM. Give mom some more time in the day by automating one of the things she usually does — after all, with this amazing Roomba robot vacuum, she can easily set it to clean at set schedules every day!
Plus, with its state-of-the-art technology, it has adaptive navigation to properly clean along edges and detect dirtier areas of your home.
FOR THE MOM WHO HAS PROBLEMS SLEEPING. Introduce her to the wonders of a weighted blanket!
Apart from helping her get a more restful sleep, this is also a great calming aid that helps reduces anxieties.
• • •
» Gadgets
FOR THE BUSY MOM. Time to transform mom's abode into a smart home! With the all-new Echo Dot, she will basically get her own virtual assistant who will aid her in setting alarms, turning off lights, locking doors, monitoring grocery lists, and so much more.
• • •
» Kitchen
FOR THE MOM WHO LOVES TO COOK. Mom's meals will get healthier AND tastier with this amazing air fryer!
Available in other charming colors, this air fryer does not only fry but also bake, grill and roast with little to no oil.
FOR THE WINO MOM. Made of high quality cacia wood that already includes 4 bowls and 4 knives, this might just be the best Mother's day gift for mom to enjoy her wine and cheese night elegantly — alone, with the family or with friends.
FOR THE WATER-CONSCIOUS MOM. This is also great for travelers and it's a bottle that's packed with amazing technology: at the touch of a button, it easily sanitizes your water and bottle from any biological contaminants!
It also inteligently self-cleans every 2 hours to keep your bottle fresh.
FOR THE COFFEE-LOVING MOM. This is the world's 1st temperature control mug and your mom should have it! This Ember mug is app-controlled and she can set the temperature to keep her cup of jo nice and toasty.
Otherwise, it also intelligently senses when it has to turn on and off once the mug is empty.
FOR THE MOM WHO LOVES TO COOK. This is Amazon's #1 vegetable chopper and for good reason! It's super useful and with its 4 interchangeable heavy-duty blades, it will let your mom chop, julienne and slice vegetables with ease.
She will love it so much that she might just cook more hearty meals for you — yep, you can thank me later -wink-.
• • •
» Subscription Boxes
Subscription boxes are great gifts for mom because you can sign them up for a plan that can extend beyond Mother's Day as they enjoy an array of goodies fir nibtgs that will suit their fancy!
FOR THE CRAFTS MOM. Much like what the title says, this is a curated subscription box for those who love to craft. Every month, they aim to introduce a new craft technique by providing all the necessary tools, accessories, and instructions.
FOR THE MOM WITH GREEN FINGERS. She will surely fall in love with a new houseplant every month with this curated box that includes all the things needed to bring a plant to life!
FOR THE MOM WHO WORKS TOO HARD. After a long hard day of working, I'm sure your mom would love to pamper herself thoroughly. With this Therabox you'll be sending, she'll surely get to feed her mind, body, and soul!
• • •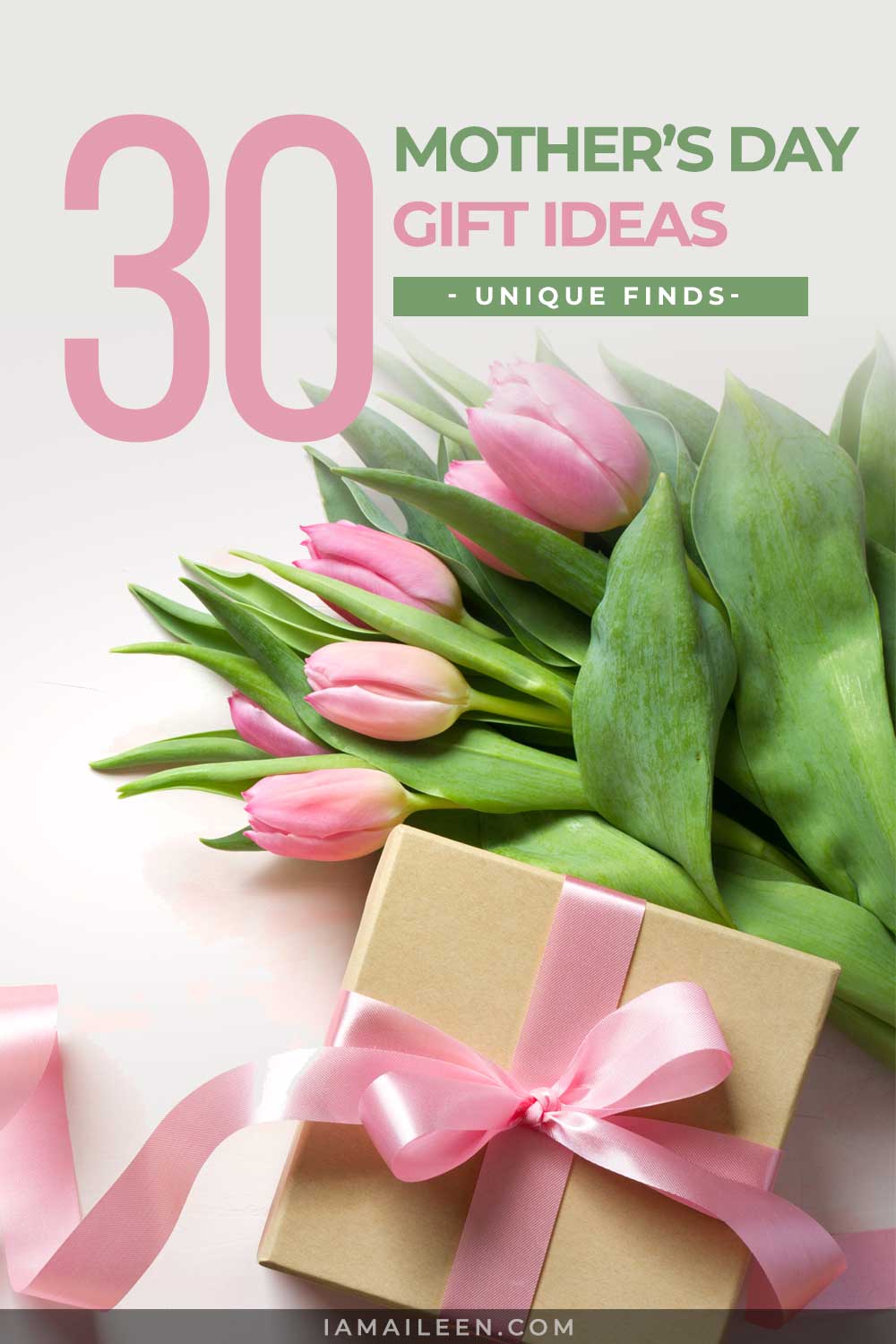 Overall
I hope this list of Christmas gift ideas helped you decide on what presents to get for the special people in your life. Do let me know what you end up buying by leaving a comment down below.
Happy shopping!
The post 30 Unique & Awesome Mother's Day Gifts for Mom (2022 Guide per Category) appeared first on I am Aileen.